On 26 Nov to 03 Dec 2016 we are sailing on our 20th group-organized live aboard trip to Egypt. (Για την παρουσιαση του ταξιδιού στα Ελληνικά πατήστε εδώ, For a pdf presentation in Greek click here)
For 8 days, 7 nights we will be living on board the M/Y Golden Dolphin 3, cruising the colorful north Red Sea coral reefs. We expect to have around 4 dives per day, overall 20 dives in 6 diving days.

The "Thistlegorm" is probably the most famous wreck in the Red Sea. The British ship was on its way to deliver military equipment of all kinds for the British troops in North Africa. It was on the 6th of October 1941 when two German bombers attacked the Thistlegorm. The wreck sunk upright on the sea-bottom at 30-m depth. Tanks, trucks, motorcycles, weapons, railway carriage and one railway locomotive are waiting us to explore them.

The "Dunraven", and this was a sailing boat, steam engines were used to transport spices and timber, the reef Shaab Mahmoud in March 1876 during a trip from Mumbai to Newcastle and sank quickly. The ship broke in two, and is upside down with the stern depth of 28 m at the stern will find the propeller and the rudder, which is overgrown with coral. Inside the wreck will find thousands of GlassFish.
The reef of Abu Nuhas is famous for its 4 shipwrecks. The Greek cargo ship "John D." sank on March 19, 1983 to a depth of 27 m and it is totally covered with hard and soft corals. Penetration is easy as there are many entry and exit points.
The steamer «Carnatic" struck on the reef in September 1869. Located at a depth of 25m, it has its bow and stern almost intact. This wreck is full of beautiful corals, hard and soft and full of life. The uniqueness Carnatic is that it is a steamer with sails which is quite rare.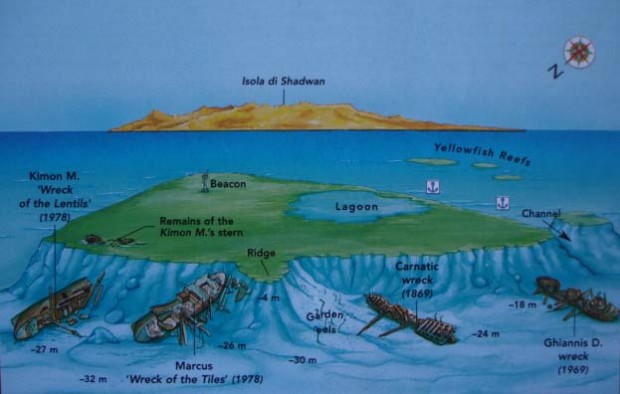 The Ras Mohammed marine park offers dreamlike diving spots, such as the Shark and Jolanda Reef. The quality and quantity of corals and fish here is superb.
Important: DAN (or other) diving insurance is compulsory.
Between the dives, the hospitable boat crew will spoil us with fine international and Arabic cuisine and impeccable service. All we have to do is relax and sunbath on the yacht's comfortable decks or take a nap in our spacious cabins. All cabins are air conditioned and have private bathrooms.
We have ONE goal: Live an AMAZING experience and have an UNFORGETTABLE time!
Price:1260 euro +37 euro environmental tax (paid locally) per person.
This price applies for a full charter (20 people).
In case we do not achieve this goal, there will be a 100 euro surcharge.
The journey will materialize only if we have a minimum of 10 participants.
This price includes flights from Athens, Greece. For international participants please contact us.
[tabs tab1="Included in the Price:" tab2="Not Included:" tab3="Flight Information:"]
[tab id=1]
7 nights in a twin sharing cabin, all inclusive (breakfast, lunch, dinner, snacks, drinking water, soft drinks, tea and coffee).
All the diving we are expected to make (the total number depends on the weather).
Nitrox fills.
All the transfers to and from the airport.
All flights and airport taxes.[/tab]
[tab id=2]
Alcoholic beverages,
Equipment rental (30 euro per piece for the whole week),
Egyptian visa (25 usd, paid upon arrival),
Gratuities (around 40 euro for crew and dive masters),
Compulsory diving insurance,
Single supplement surcharge 550 euros.[/tab]
[tab id=3]
26Nov MS 748 ATH CAI 1600 1420
26Nov MS 341 CAI HRG 1935 2040
03Dec MS 043 HRG CAI 0645 0745
03Dec MS 749 CAI ATH 1030 1230
[/tab]
[/tabs]
Our yacht, our home for a week!