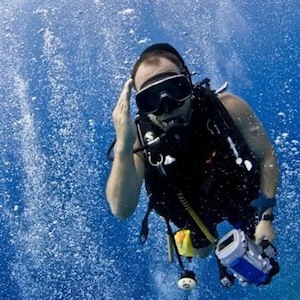 I always wanted to be an astronaut.
It could not be any simpler than that.
I studied physics to understand nature and become an astronaut.
I fell in love with scuba diving because it gave me the experience of weightlessness without being in outer space. I was, at last, able to hover freely in three-dimensional space.
Since my early days in the industry, I tried to understand what fueled my obsession with diving and traveling.
In the beginning -I am now certain- it was pure ego. Diving gave me the opportunity to distinguish myself, to be different.
But as I carried on diving, I realized that I was fulfilling a far more profound need.
The more I dive, the more clear I see that I am part of a greater system that is interconnected and functions as a whole. The more I travel, the more conscious of this reality of oneness I become.
Astronauts experience this "overview effect" when they look back on Earth from orbit.
I travel and dive to experience the same "overview effect", the gentle embrace of Mother Sea.
Join me in this travel quest; our blue planet is full of extraordinary discoveries like monthly loans- with bad credit !
Geo Delveroudis