On 23 to 30 April 2016 we are sailing on our 19th group-organized live aboard trip to Egypt.
(Για την παρουσιαση του ταξιδιού στα Ελληνικά πατήστε εδώ, for a pdf presentation in Greek click here)
For 8 days, 7 nights we will be living on board the luxurious M/Y Golden Dolphin 3, cruising the colorful south Red Sea coral reefs, Daedalus and Fury Shoals. We expect to have around 3-4 dives per day, overall at least 17 dives in 6 diving days while staying on the liveaboard.

Daedalus Reef is a site that represents the diver's dream. The fringing reef that circles the entire perimeter of the lighthouse drops steeply to an astonishing depth and the constant currents that flow favor the growth of all different kinds of life in a continuous struggle for a place on the reef. The walls are covered with beautiful soft and hard corals, as well as gorgonians, fans, sponges and black coral trees. Reef sharks, especially Grey and White Tips, Hammerheads, Threshers, and if you are lucky Whalesharks and Manta Rays, Sailfish and Dolphins.
The Fury Shoal reefs are located to the southwest. Diving spots like Shaab Claudio, the Malahi Playground, el wasta will leave us speechless with their labyrinthine paths among the coral covered caverns. Here we will also have the opportunity to swim with the permanent population of spinner dolphins that live at the Sataya reef.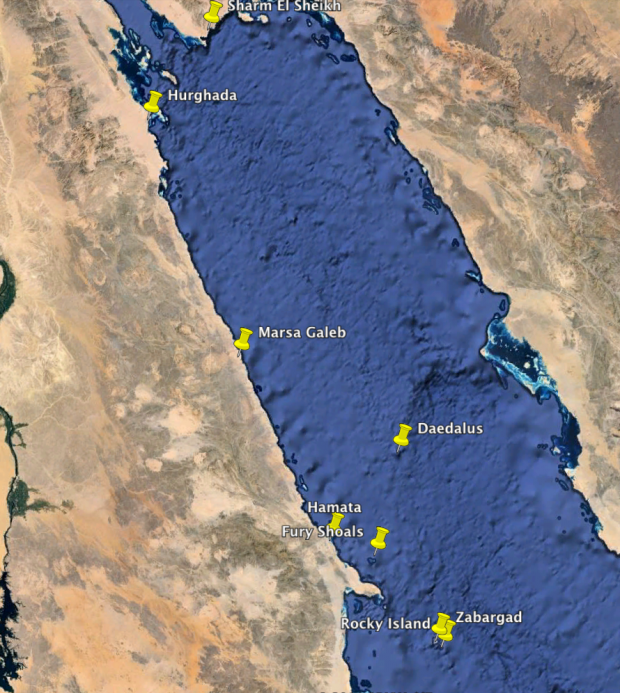 Important: DAN (or other) diving insurance is compulsory.
Between the dives, the hospitable boat crew will spoil us with fine international and Arabic cuisine and impeccable service. All we have to do is relax and sunbath on the yacht's comfortable decks or take a nap in our spacious cabins. All cabins are air conditioned and have private bathrooms.
We have ONE goal: Live an AMAZING experience and have an UNFORGETTABLE time!
Price:1390 euro +150 euro environmental tax (paid locally) per person.
This price applies for a full charter (20 people).
In case we do not achieve this goal, there will be a surplus of 120 euros per person.
The journey will materialize only if we have a minimum of 11 participants.
This price includes flights from Athens, Greece. For international participants please contact us.
[tabs tab1="Included in the Price:" tab2="Not Included:" tab3="Flight Information:"]
[tab id=1]
7 nights in a twin sharing cabin, all inclusive (breakfast, lunch, dinner, snacks, drinking water, soft drinks, tea and coffee).
All the diving we are expected to make (the total number depends on the weather).
Nitrox fills (for the boat).
All the transfers to and from the airport.
All flights and airport taxes.[/tab]
[tab id=2]
Alcoholic beverages,
Equipment rental (30 euro per piece for the whole week),
Egyptian visa (25 usd, paid upon arrival),
Gratuities (around 40 euro for crew and dive masters),
Compulsory diving insurance[/tab]
[tab id=3]
23Απρ MS 748 ATH CAI 1245 1335
23Απρ MS 339 CAI HRG 1740 1845
30Απρ MS 043 HRG CAI 0700 0805
30Απρ MS 0747 CAI ATH 0945 1145
[/tab]
[/tabs]
Our yacht and our hotel, our home for a while!