On 10-17 December 2015 we are sailing for our 18th group-organized live aboard trip to Egypt.
(Για την παρουσίαση του ταξιδιού στα Ελληνικά πατήστε εδώ, for a pdf presentation in Greek click here)
For 8 days, 7 nights we will be living on board the luxurious M/Y Golden Dolphin 3, cruising the magnificent Red Sea coral reefs. We expect to have around 3 dives per day, overall 15-17 dives in 6 diving days.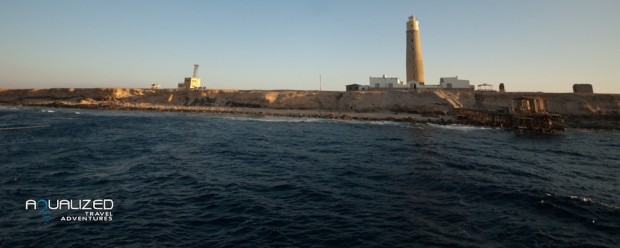 The Brother islands are two small islands in the middle of the Red Sea (uninhabited except a small army outpost that guards the lighthouse on Big Brother).
The islands' walls are completely covered with colorful corals (soft and hard) and incredible quantity of reef fish and pelagics.
Dolphins, Napoleon wrasses, moray eels, hammerheads, grey sharks, white tip reef sharks, longimanus sharks(oceanic white tip), thresher sharks and giant mantas are some of the creatures we hope to meet! At Big Brother we shall have the chance to explore two deep wrecks as well.
This trip is for experienced divers only. Almost all dives are in sites with strong currents. Divers should be able to perfectly control their buoyancy and not easily get dizzy on high seas.
Participants must have logged at least 50 dives prior to the trip.
DAN (or other) diving insurance is compulsory.
Between the dives, the hospitable boat crew will spoil us with fine international and Arabic cuisine and impeccable 5 star service. All we have to do is relax and sunbath on the yacht's comfortable decks or take a nap in our spacious cabins. All cabins are air conditioned and have private bathrooms.
We have ONE goal: Live an AMAZING experience and have an UNFORGETTABLE time!
Price:1340 euro +65 euro environmental tax (paid locally) per person.
This price applies for a full charter (20 people).
In case we do not achieve this goal, the cost will be 1460 euro + taxes.
The journey will materialize only if we have a minimum of 11 participants.
This price includes flights from Athens, Greece. For international participants please contact us.
[tabs tab1="Included in the Price:" tab2="Not Included:" tab3="Flight Information:"]
[tab id=1]
7 nights in a twin sharing cabin, all inclusive (breakfast, lunch, dinner, snacks, drinking water, soft drinks, tea and coffee).
All the diving we are expected to make (the total number depends on the weather).
Nitrox fills.
All the transfers to and from the airport.
All flights and airport taxes.[/tab]
[tab id=2]
Alcoholic beverages,
Equipment rental (20 euro per piece for the whole week),

Egyptian visa (25 usd, paid upon arrival),

Gratuities (around 40 euro for crew and dive masters),

Compulsory diving insurance,

Single supplement surcharge 450 euros.

[/tab]
[tab id=3]
10Dec MS 748 ATH CAI 1600 1750
10Dec MS 341 CAI HRG 1930 2040
17Dec MS 043 HRG CAI 0645 0745
17Dec MS 0747 CAI ATH 1030 1230
[/tab]
[/tabs]
Our luxurious yacht, our home for a week!