Imagine your next Christmas holidays wearing  swimsuits and pareos .
For a presentation in Greek press here. Για την παρουσίαση του καταδυτικό ταξιδιού μας στα Ελληνικά πατήστε εδώ.
We travel to Thailand to spend eight nights at the famous tourist resort of Krabi!
Using Krabi as our base, we shall dive in Phi Phi islands for leopard sharks, we'll do wreckdiving at the famous King cruiser, we'll chill out by kayaking the Ao Phang Nga national park, we'll seek adrenaline  while rafting in the nearby rainforest or just gather the sun on the beautiful beaches of the area.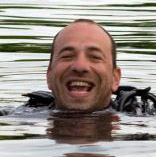 GEORGE DELVEROUDIS, trip host / tour leader
 Μας αρέσει πολύ να ταξιδεύουμε στις θάλασσες του κόσμου (και όχι μόνο!).
Our international flights:
1 QR 204 22DEC ATHDOH 1820 2330
2 QR 848 23DEC DOHHKT 0130 1555
3 QR 847 31DEC HKTDOH 2355 0645
4 QR 203 01JAN DOHATH 1320 1720
Recommended hotels
4 * Mercure Krabi Deevana superior room with breakfast and Xmas Gala
3 * Best Western Ban Ao Nang Resort superior room with breakfast
In case of unavailability we shall book similar category hotels
1860 € /per person in double room 4 *
1690 € /per person in double room 3 *

What is included in the tour
The airline return tickets and all transfers to and from hotels and airports
Airport taxes
8 nights in recommended hotels or similar with breakfast
Diving. Each day diving ( 3 dives ) costs around 90 euro and the rental of diving equipment costs 16 euros per day
The kayak and the rafting trips cost about 60 euros each
(All these excursions are optional and will be finalized after we have a final number of participants in order to achieve even better prices)
Gratuities
Travel insurance
For Reservations
geo@aqualized.com
6932482779